China Rare Earth Holdings Limited ("CRE") (formerly known as Yixing Xinwei Holdings Limited) is one of the leading and well-respected rare earth and refractory products manufacturers in the Peoples' Republic of China ("PRC"). The Group has been listed on The Stock Exchange of Hong Kong Limited since 15 October 1999. It is the first Chinese private enterprise which engages in the manufacture of rare earth and refractory products listing outside the Chinese mainland.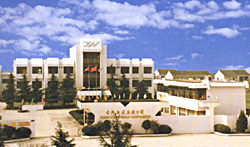 CRE began its business in 1987 in the city of Yixing, Jiangsu Province, the PRC. Commencing operations as a rare earth separating factory, it has grown rapidly to become a recognised rare earth and refractory products manufacturer. The Group successfully obtained ISO9002 quality certification in January 1999. Its annual production capacity reaches 6,500 tonnes (REO) rare earth products and 100,000 tonnes refractory products. Fluorescent materials, polishing agents and high temperature ceramics are other major product lines of the Group.
The Group operates a rare earth separating factory and a refractory production factory. The rare earth separating factory comprises a smelting rare earth products workshop, several rare earth extraction lines and many cutting edge equipment while the refractory production factory embraces a refractory products workshop with several high-temperature tunnel kilns, light tonnage brick pressers and pre-moulded production lines. The Group believes that the high quality production facilities could produce the best rare earth and refractory products.
The industrial applications for rare earth products include high-tech electronic devices, computers, electronic motors, LCDs, DVDs, magnetic materials, magnetic memory chips, fibre optics, superconductors, mobile phone batteries, precision optics and many energy-saving environmental protection products. Refractory products are used extensively in heat-treatment facilities for petrochemical, steel metallurgy, non-ferrous metallurgy, glass, construction materials, chemical fertiliser and ceramics industries. Rare earth products of the Group are mainly exported to the United States of America, Japan, Europe and Korea, and its refractory products are mainly for domestic sales and export to Japan. Its client list includes names of international prominence, such as General Electric, Nippon Electric Glass, Siemens, Shin-et Chemical and Krosaki Harima, to name but a few.
The Group has a research and development centre that focus on improving existing products and developing new products. Building and maintaining relationships with clients and exploring new businesses are the responsibility of its talented sales and marketing department. Concerning the environmental protection as well as the market needs, the Group will continue to develop environmental friendly and high value-added products.